Top Tips for Buying Fish
18th Feb 2021
So you've completed your pond build project and the final act of finishing off your garden pond is to actually add some fish. However you might want to consider more than just the dazzling colours and how amazing they'll look in your gorgeous new pond. There are a few things you should consider before choosing your fish, and indeed before choosing where to buy them from.
Any reputable ornamental or pet fish seller should have the proper licensing from the local authority to prove that the premises and staff are fully qualified and trained in the proper and safe-keeping, welfare and selling of ornamental pet fish. This licence should be displayed in easy view within the premises. Once you have established that the shop is reputable and licenced there are a few other things that you can check and look out for. See below for our 10 top tips on what to look out for:
Cleanliness and Hygiene
As with all animals (and humans), cleanliness is essential for tip top health and well-being. This is of course no different with fish. If the shop is in a bit of a state so might the fish be. Here at Bradshaws all vats are cleaned at least once a week, and proper precautions are taken such as using different sponges for each vat to avoid cross contamination. Filters are cleaned once a week and UV sterilisers are checked weekly and cleaned if necessary, with all of this activity being recorded
Water Quality and Testing
Water should be tested frequently. At Bradshaws we check the water a minimum of 3 times a week, checking for things such as pH, ammonia and water temperature - and results are recorded scrupulously.
Feeding
Properly fed fish are happy fish! We feed our fish once a day in the morning. A measured amount is given every day, appropriate to stocking levels to ensure we do not overtax the filtration system, and we always display what food we are feeding.
Happy Healthy Fish
All fish should be healthy, disease free, and of course happy. Certainly in the spring and summer months your fish will be active and 'social' swimming about together. If a fish seems to be hanging out alone and separate from the others, it could be a sign of illness or stress. All our fish are checked for disease on delivery and isolated should there be any issues. Fish in the shop are observed and monitored daily for signs of stress or illness, with any problems being recorded on health diary sheets and proper action being taken such as quarantine or treatment should that be necessary.
Net Sharing
Another important precaution is that different nets are used for different vats. At Bradshaws all our nets are colour coded and only each used for a specific fish vat. All nets are also rinsed in specialist disinfectant after every use.
Clear Skin
Any fish you buy or any that are available should be free from any kind of marks, missing scales and broken or missing fins or sores. Any of these things can be a sign of bacterial infection or parasites.
Size and Stock
You need to only get fish of sizes and numbers that are suitable for your pond. Too many fish or big fish in a small pond could present in all kinds of issues. Staff at the shop should be able to advise you on what is best for your situation, so be sure to be armed with the knowledge of the sizes and volumes of your pond when you go.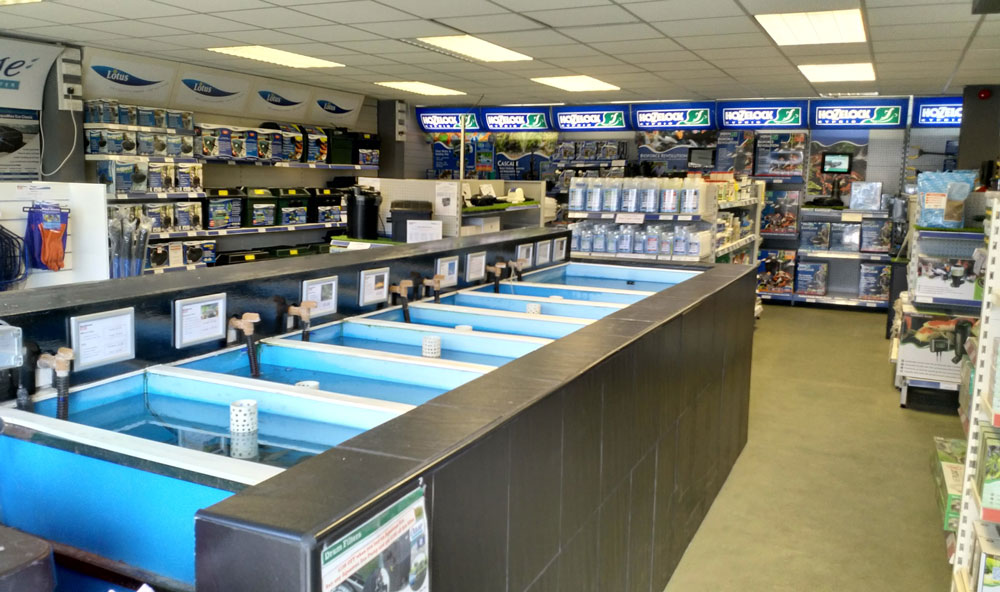 Knowledgeable Staff
Be sure to ask plenty of questions (as in the previous point). If the staff are knowledgeable and able to field all your queries then you can be sure they know what they are doing and so the fish are likely to be well cared for and you can rest assured that you are leaving the premises with everything you need to know.
Packing for Transportation
All our fish when sold are bagged in clear plastic bags with 1/3 of the volume of the bag filled with water and 2/3 with air/oxygen. Bags are sealed with strong elastic bags and the fish bags are then placed within a black bag or box. This reduces stress to the fish during transportation. We are also sure to check on the location of the customer as we advise that fish should not be transported on a journey any more than 40 miles home.
Information
Finally we ensure that every customer is furnished with the appropriate leaflets so that are properly informed on how to ensure the welfare of their new pets. These leaflets are all produced by OATA – The Ornamental Aquatic Trade Association. We also ensure that we personally advise customers on the proper feeding regime appropriate for their situation.
Follow these top 10 tips and you can be sure of many happy years with your aquatic friends, so why not get down to our York Shop (unfortunately we cannot provide fish for sale via our website), and get acquainted with the many breeds we have available.