Gorgeous PondKraft Solar Water Features!
14th May 2021
We're now fully stocked up on all of our most popular own brand PondKraft and Bradshaws stuff! We've got the gorgeous new PondKraftSolar Cascading Jugs as well as the ever popular PondKraftSolar Bird Bath and our Solar Fountain Pumps and Oxygenators.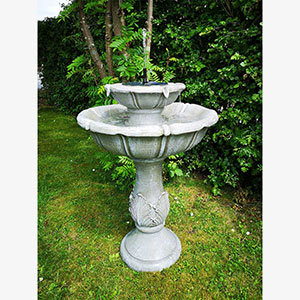 PondKraft Solar Birdbath
This pretty bird bath will look lovely in any garden or on your patio. It's solar powered so there's no need for cables, wires or hoses. Simply unpack, fill with water and enjoy. It provides a safe place for birds to drink and creates the calming sound of trickling water to help you relax.
The solar panel comes with a built-in battery so it will charge up when the sun shines and the fountain can be used whenever you like. Four bright LED lights will come on automatically after dark to illuminate the fountain.
There's a choice of different fountain heads supplied so you can choose your favourite. Made from sturdy poly-resin it stands 78cm tall, that's a little over 2'6" and weighs a solid 8 kgs.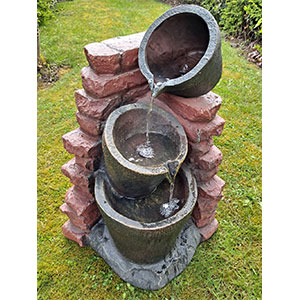 Pondkraft Solar Rustic Brick Cascading Jugs Water Feature
This charming, rustic water feature will make a lovely addition to your patio. Solar powered, so no need to connect it to the mains. you can put it wherever it looks best. It will provide the gentle soothing sound of cascading water during the day and a warm glow after dark. Height 73cm, Width 48cm, Depth 42.5cm approx - 1 year guarantee